First MEDEVAL Course of 2023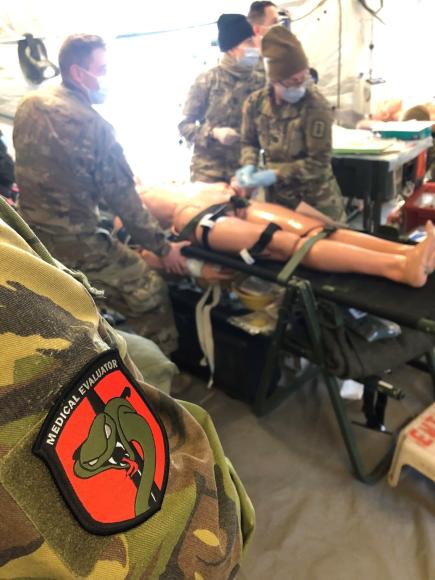 The first MEDEVAL Course of 2023 was held on the week of 6 March and hosted by our colleagues from the United States in the Landstuhl Regional Medical Centre. During the course, an actual evaluation took place as well, where the students completed the evaluation of 4 Medical modules, namely the Emergency Room, the Operating Room, the Laboratory, and the Patient Holding. These belong to the 512th Field Hospital and were deployed in the field.
Naturally, once completed, the outcomes of the process were presented on the last day to Colonel Andrew L. Landers, Commanding Officer of the US Landstuhl Regional Medical Centre.
We were also delighted to host 27 students from 6 different states (NATO member states: Belgium, Great Britain, United States of America, Slovakia, and The Netherlands and a Partner county, Finland.) During the long history of the course, we have also managed to retain an excellent cadre of course instructors and facilitators from Australia, Bosnia-Herzegovina, Great Britain, the United States of America, and The Netherlands, all providing their unique experience to the overall success of the course. The MEDEVAL course remains one of the most sought-after training opportunities of the NATO MILMED COE, so we are already gearing up for the next iteration in Italy in May 2023. To learn more, follow the link to the course description.

UPCOMING COURSES